Throughout the COVID-19 lockdowns, restrictions and border closures, the Flying Fruit Fly Circus has focused on the creation of new works and the employment and support of artists. Announcing this year's popular BORDERVILLE CIRCUS FESTIVAL, the Fruities are offering a first look at some of these projects, the annual Grad Show and the premiere of a brand new work from the circus.
Anni Davey, Artistic Director said "It is time to for us to emerge from the shadows and acknowledge the creativity and resilience of our regional cultural community. We invite them once again to experience the magic of circus, the exuberance of our young acrobats and the imagination of some extraordinary Australian artists. Leaving the online behind – these are Real Shows with Real People!"
---
ENDANGERED SPECIES
3-5, 10-12 December, Wonga Wetlands, Albury, various times
Deep in Albury's Wonga Wetlands in a unique and highly secretive child led conservation effort, the Flying Fruit Fly Circus has established a sanctuary which provides a natural environment for wild children to live and play in their natural state. An immersive one-hour experience.
THE GRAD SHOW
17 & 18 December, Flying Fruit Fly Circus, Albury, 8.30pm
The Grad Show is an original circus work created and performed by the 2020 graduating students of the world-renowned Flying Fruit Fly Circus. With the company's alumni populating many of the great circus ensembles of the world, see these extraordinary emerging artists now, on your own doorstep, before they fly the coop.
UNPRECEDENTED
From 3 December
UNPRECEDENTED is a paste-up photography exhibition for young photographers documenting 2020. First bushfires, then a global pandemic, lockdowns and online learning – it has been a crazy year. Amongst all the bad news, there have been many examples of resilience and hope.
A collection of photographs will be exhibited in an outdoor gallery in Albury during December and January.
UNDER CONSTRUCTION SERIES
In 2020 Flying Fruit Fly Circus supported a number of established and emerging artists to create new work. Three of these residencies will showcase their work in our UNDER CONSTRUCTION program this December. All tickets are $10 and we hope you can come out to show your support for independent artists.
DECEMBER
12 December, Flying Fruit Fly Circus, Albury, 8.30pm
A captivating solo physical theatre performance created by Australian multidisciplinary artist Jake Silvestro, marking our history, and honouring those affected by 'Black Summer'. Combining visual art and circus on a powerful scale, December challenges and uplifts with live art performed at staggering heights with acrobatic precision.
TALE OF THE TWO HARPIES
19 December, Flying Fruit Fly Circus, Albury, 1.00pm
A new physical theatre clown show in development by Nicci Wilks and Emilie Bloom, directed by Susie Dee.
Tale of the Two Harpies is a grim and grotesque dark comedy. These clowns bring a nostalgic quality to a wicked tale that imitates the real world… Horse Chases, Villains and Vengeance. It's freakish and eerie with a touch of charm.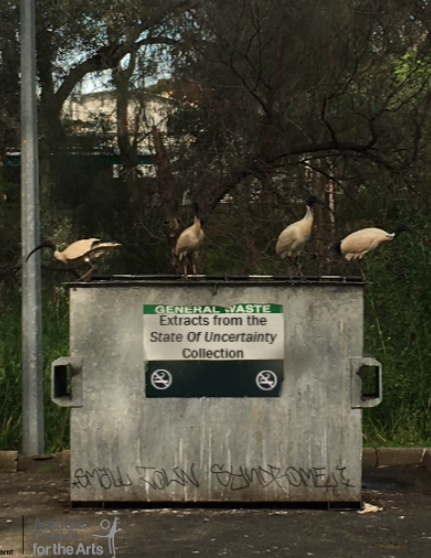 EXTRACTS FROM THE STATE OF UNCERTAINTY COLLECTION
19 December, Flying Fruit Fly Circus, from 5.15pm
An immersive performance art experience created by four Fruit Fly alumni. The works exhibited are a collage of emotions, moments, and resolutions expressed through different mediums such as visual art, audio, poetry, performance art, and circus. An intimate experience of our realities, fantasies, and dissolutions.